The Zony is a fictional pony breed in Star Stable Online. It was created by Ydris with the help of his Pandoric magic.
Description
Original description
"The Zony is a fantastical creature that can only be found at Ydris' Circus of Dreams.
While it has many similarities to the Jorvik Pony it's based on, Ydris gave it a magical coat distinct from any naturally occurring pony. This seems to also have affected it's characteristics somewhat, as it's even more headstrong than the Jorvik Pony and is particularly reluctant to jump through hoops.
The transformation seems to have had no effect on its appetite, and this little pony will gladly eat anything, given the opportunity, especially candy apples.
The Zony was born from the wishes of many riders on Jorvik, and is a testament to the powerful magic that unity can bring. " - Star Stable Online
The Bray
Unlike regular horses and ponies who whinny and neigh when rearing, the Zony seems to have taken it's vocalizations from it's Zebra side. When the player makes the Zony rear, it will bray like a zebra.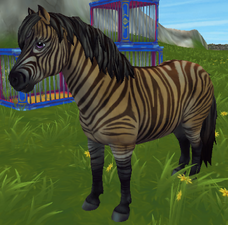 Colours, Pricing, and Locations
The Zony is a Generation 3 breed that was teased on SSO's Social media on November, 20, 2018, and was released during the Wednesday update of November 28 that same year.
The Zony, can be found at Ydris' Circus on Nilmer's Highland and is sold for 550 SC.
Currently there is only one Color available:
Trivia
During it's release, a glitch made it impossible for the Zony to race in the Pony champ d

espite being pony, and being listed as an accepted participant in the Pony Championships. This has since been fixed.

While Zonies are a real achievable Zebroid hybrid "breed" in real-life (being the offspring of a male zebra and a female pony), the Zonies in SSO are clearly the effects of magic and not breeding.
The Zony's forehead will occasionally glow pink along it's stripes, indicating its magical, pandoric origins.
Community content is available under
CC-BY-SA
unless otherwise noted.