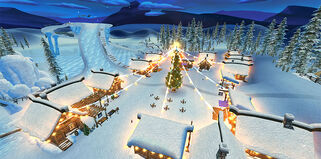 Winter Village is an area only accessible during the Christmas event. It is one of the few areas accessible by all players.
History
In the October 23, 2017 update, the SSO team hinted that the Christmas event would be getting an update from it's past iterations.
In the November 29, 2017 update, the village was released. While old Christmas quests were removed, the release of the market released new quests in a compact area, so players would not have to travel all around Jorvik to complete quests.
In the December 2, 2020 update, the graphics of the village was updated and Santa was removed from his usual location and added to the Jorvik City Mall. Instead, players could play quests with Mrs. Holdsworth's Yule Goat that would introduce them to the Winter Village. The Yule Goat Hunt had been altered significantly, and the Ice Boutique was replaced with a Warm Wish exchange.
Appearance
The Christmas Market is a snowy landscape in perpetual nightfall where the stars and even an Aurora Borealis are visible. The entire market is covered in Christmas decorations and lights.
The market itself has modest brown cottages surrounding a big Christmas tree. Just next to the village is a giant lake of ice where players can slip and slide around.
Residents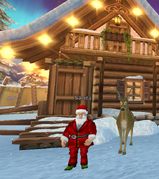 Santa
Santa is located at his home in the market and is available for some quests. While he no longer exchanges "Christmas Wishes" for random gifts, he does offer a few select quests players can complete for XP and even more wishes.
Elves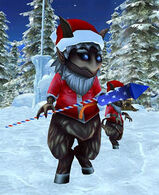 The Elves are a re-skinned version of Chaun, the Leprechaun from the Fortuna Festival event, but unlike Chaun, the elves are decked out in christmas hats and jackets with white beards and blue eyes. A few Elves have special names and accessories. The Elves of 2020, however, are not unique in appearance. Some Elves are found only outside of winter village such as Landing Pad Helper, Dreams of Summer and Aurorus.
Elves in Previous Years
Landing Pad Helper
Bungle the "Race Helper"
Gruggle the Delivery Helper
Little Helper
Elves in 2020
Landing Pad Helper
Jumble
Jangle the Finish Line Helper
Dreams of Summer (Reverts snow particles and frozen lakes back to summer)
Aurorus (Rerolls auroras)
Accessibility
To access the Winter Village, players must have finished the quest where Justin Moorland gives you a brush, a hoof pick and a bucket. After that, the Christmas sleigh will be placed in practically every major area in Jorvik.
The Ice Boutique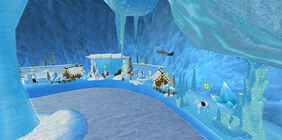 Besides the regular shops were players can purchase christmas clothing, gear, and accessories from previous years, there is also a small ice cave in the market. In this cave, players can exchange their "Christmas Wishes" for special (current year) exclusive clothing, gear, accessories, and a special non-disposable reindeer powder. The Ice Boutique has been removed from the game in 2020 and replaced with the Warm Wishes exchange function.
Reindeer
There is a stable located in the market where players can purchase transformation powders for their horse, which will transform them into a Reindeer in one of the three colors depending on what powder is purchased, except for one which has to be swapped for in the ice cave. In 2020, the Holiday Reindeer powder could no longer be bought. Reindeer powder can only be accessible through Soul Riding rewards.
These powders are available in:
Brown (ice cave exclusive)
Grey
Rudolph (brown with a red nose)
White
Trivia
In Christmas 2020, Winter Village's snow and tree texture had been updated. The sky and sleigh to Winter Village has also been updated.