The Westphalian makes additional appearances in the following games.
Star Stable
Description
"The Westphalian is a German Warmblood that is known for its athletic ability. It can be used both in harness and under saddle, where it works well for competitions such as dressage and jumping. The Westphalian has also been used in the military." - Star Stable: The Winter Rider
Locations and Colours
The Westphalian makes an appearance in Star Stable: The Winter Rider.
It can be found at Pine Hill Stables in one color, Seal Brown.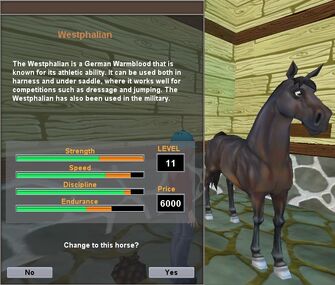 Trivia