The Westphalian is a horse breed that is available in Star Stable: The Winter Rider and Star Stable Online.
Timeline
| Date | Development |
| --- | --- |
| April 2, 2013 | The G1 Westphalian was announced to be released in the near future on SSO's news page. |
| October, 23, 2013 | One variation of the G1 Westphalian is added to the game |
| November 5, 2015 | A trailer for the G1 Westphalian is posted on SSO's youtube channel |
| July 12, 2017 | The G1 Westphalian model is updated to the G1.5 model. |
Description
"The Westphalian is a German Warmblood that is known for its athletic ability. It can be used both in harness and under saddle, where it works well for competitions such as dressage and jumping. The Westphalian has also been used in the military." - Star Stable Online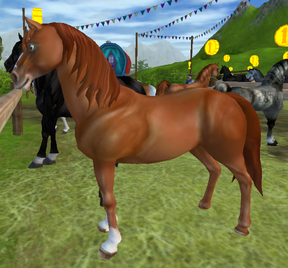 Colours, Pricing, and Location
The Westphalian is sold for 690 SC. It can be found at Ferdinand's Horse Market and comes in one variation.
Trivia
The Westphalian shares its model with the Gen 1.5 Jorvik Warmblood.
The Westphalian was the first horse breed to be sold in one single color.