The Vega is a fictional pony breed in Star Stable Online. It is a variation on the Zony and was created by Ydris with the help of his Pandoric magic.
Description
"Born upon a wish of a star, Vega is a dazzling variation of Ydri's [sic] Enchanting Zony.
When Ydris granted Mario's wish, he wrapped a Jorvik Pony in a twinkling blanket of stars, and thus Vega was born. Despite the Jorvik Pony's usual attentiveness, the effect of the glistening coat has an opposite influence on the Vega's disposition. Vega has a dreamy temperament and is often entranced by the constellations in the night sky.
The astral Vega loves any foods that remind them of stars in the shimmering sky, their favorite being sunflower seeds.
All the wishes that Jorvegians have made to the stars are intertwined on Vega's sparkling blaze." - Star Stable Online
The Bray
Unlike regular horses and ponies who whinny and neigh when rearing, the Vega seems to have taken it's vocalizations from it's Zebra side. When the player makes the Vega rear, it will bray like a zebra.
Colors, Pricing, and Locations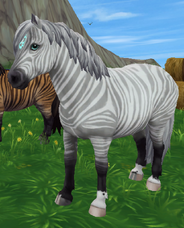 The Vega is a Generation 3 breed that was teased on SSO's Social media on January, 20, 2020 and Jan 21, 2020 in two teaser videos and the release date was given during the Wednesday update of January 22, 2020 of January 29 of that same year.
The Vega, can be found at Ydris' Circus on Nilmer's Highland and is sold for 550 SC.
Currently there is only one Color available:
Trivia
While Zonies are a real achievable Zebroid hybrid "breed" in real-life (being the offspring of a male zebra and a female pony), the Zonies in SSO are clearly the effects of magic and not breeding.
The Vega's forehead will occasionally glow turquoise along it's stripes, indicating its magical origins.
The Vega is the brightest star of the Lyra constellation.[1]  
Community content is available under
CC-BY-SA
unless otherwise noted.