Overview

Other Appearances

Gallery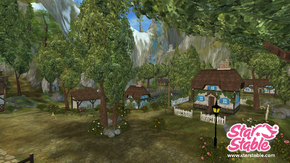 Valedale Village is a beautiful village located in the area of Valedale.
Star Stable: The Autumn Rider
TBA
Star Stable Online
The player first comes here to talk with Elizabeth about needing her help in various quests. Soon after gaining some experience Elizabeth asks the player to test their abilities on the runestones behind her. When the player tells her that all four light up she becomes intrigued.
Amenities
Horse-selling stable
Four shops
Hostel
A café
Inhabitants
Trivia
Valedale is the location of many of the story quests.
The SSO series "Forever" is set in Valedale.
Valedale is the home stable of Elizabeth Riverland a famous Star Stable YouTuber.
The Silversong River cuts through the village.
The entrance to the Valley of the Hidden Dinosaur is here