Hi everyone
Hello! I'm new here, for my first post, I'm just going to tell you guys a little bit about me. 
My name is Ava Hayrider
I'm level 13
And my serevr is Night Star
Feel free to message me in the game, ask me questiones, or just hang out. For my first post, I would like to ask you guys a question. As you know, the new Knabsrupper has arrived and that only 3 have been released in the game and that the other 4 are hopefully coming next week or sooner. A few weeks ago, I brought the light brown one and I love him! My question for you guys is, should I buy the grey or the white one ? Or should I wait until the other ones come? Im slightly leaning towards the waiting, but I want to hear your guys thoughts. 
Anyway, besides that, I'm going to be buying a Tinker soon and hopefully unlock Easter Epona where are the other beuatyiful Fresiens are! I probbaly going to buy the white/greay, brown, and the appalosa. I'll hoepfully be postung and giving you guys updates three or twice a week, feel free to comment on my posts and let me know what you think. 
See you guys soon :)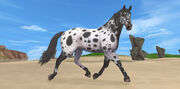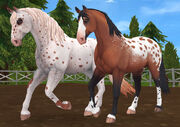 Community content is available under
CC-BY-SA
unless otherwise noted.