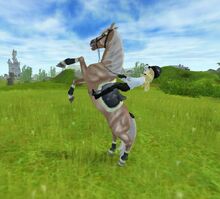 My namn is Ellen, or as I'm known in SSO; Ylva Moonwright. I'm 19 years old and live outside Gothenburg in Sweden. Together with my family I own one horse and three cats. When I was younger I played almost all the Starshine and Star Stable games but didn't begin to play SSO until September last year. Mostly because the computer I had before couldn't handle the game.
Ylva Moonwright
This is my first account, and the only one on which I'm currently active, and exsists on the first Swedish server called Air Star. I'm is in level 17 and own 25 horses. Currently I'm one of the clubleaders in the club Glorious Arrows owned by Brigitta Underhand. One of my favorite things to do in game is to level up my horses or spend money, either on tack and gear or on horses. If I don't have anything to do I will either run around in Steve's paddock or take pictures.
My Accounts
Ylva Moonwright - Air Star (SWE 1)
Mira Greennight - Marshmallow Clouds (SWE 2)
Ylva Moonbard - Fluffy Unicorn (SWE 3)
Ellen Archwright - Lightning Star (SP)
Community content is available under
CC-BY-SA
unless otherwise noted.