The Trakehner makes additional appearances in the following games.
Star Stable
Description
"The Trakehner is highly successful in international competitions, much thanks to it being a quick learner. It is bred in Germany under strict supervision. It is a fantastic horse for jumping and dressage." - Star Stable: The Spring Rider
Locations and Colours
The Trakehner makes an appearance in Star Stable: The Spring Rider.
It can be found at Beauvista Stables in one color, Grey.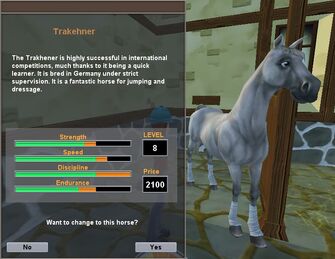 Trivia