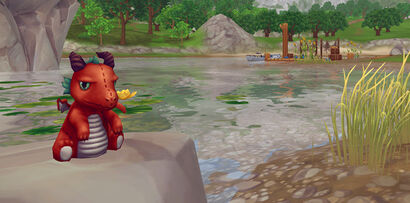 Toy Postcards are a game mechanic similar to Fallen Stars and Spiders. The locations to take these photos of Token are throughout Star Stable Online. The postcard photos are most similar to Spiders, as they serve a purpose as part of a quest involving James Cloudmill. Collecting all of the photos will result in the quest's completion and a collection of items.
The amount of photos collected in each level of the quest can be seen when clicking the collections button on the user interface or by pressing the "J" button on your keyboard. Copies of the photos you've taken will appear on your computer in the "Star Stable Online Screenshots" folder.
Finding Locations to Take Postcard Photos
After receiving the quest from James Cloudmill to search for places to take postcard photos of the stuffed dragon Token, the locations will be placed in select areas all over Jorvik depending on the part of the quest and the level of the player. There are six parts of the quest; Part 1 unlocks at player level 3 and is located in the Moorland and Fort Pinta area; Part 2 unlocks at player level 6 and is located in Silverglade, Firgrove and Valedale; Part 3 unlocks at player level 9 and is located in Jarlaheim and Jorvik City; Part 4 unlocks at player level 12 and is located in Mistfall and South Hoof Peninsula; Part 5 unlocks at player level 15 and is located in Epona, Goldenhills Valley and Valley of the Hidden Dinosaur; Part 6 unlocks at player level 18 and comprises secret locations hidden around Jorvik. Part 2 through Part 6 require the player to be a Star Rider.
Rewards
After completing each chapter, the player will be rewarded by James for taking the photos needed to complete each part. Depending on the part you've completed, you will receive a special item from James.
| Chapter | Reward |
| --- | --- |
| 1 | James' spare glasses |
| 2 | James' spare cap |
| 3 | James' spare t-shirt |
| 4 | James' spare sneaker & James' spare jeans |
| 5 | Token plush |
| 6 | Shutterbug Saddle Bag* |
*At the end of the the sixth chapter, James will also give you 500 XP.
Locations
There are 158 locations in which to take postcard photos in-game. Below you will find the locations and the coordinates to take the postcard photos in-game.
Chapter 1 - Moorland and Fort Pinta
| Number | Coordinates | Notes |
| --- | --- | --- |
| 1 | X: 231, Y: 266 | Near James on the statue fence |
| 2 | X: 253 , Y: 267 | Fort Pinta beach, the side nearest to Mistfall |
| 3 | X: 243 , Y: 235 | Doyle's Abbey, on a tree stump |
| 4 | X: 216, Y: 248 | Moorland fishermen dock |
| 5 | X: 181, Y: 254 | Moorland beach by the firepit |
| 6 | X: 165, Y: 240 | Nilmer's Highland cliff behind the old buildings |
| 7 | X: 158, Y: 222 | By the circus, a small cliff nod facing the circus |
| 8 | X: 228 , Y: 244 | On the fence by Ferdinand's Horse Market |
| 9 | X: 189, Y: 229 | Cozy Picnic spot behind the blacksmith |
| 10 | X: 252, Y: 230 | Near pony training race, by the shore |
Chapter 2 - Silverglade, Firgrove and Valedale
| Number | Coordinates | Notes |
| --- | --- | --- |
| 1 | X: 184, Y: 200 | On a tree stump in front of Silverglade Castle |
| 2 | X: 199, Y: 203 | On the fence of the Lusitano paddock at Steve's Farm |
| 3 | X: 190, Y: 157 | Sitting on one of the sheep close to the Rabbit race |
| 4 | X: 171, Y: 177 | At Marley's farm, in the flowerbed behind the ETB's for sale |
| 5 | X: 207, Y: 192 | Sitting on the fence by the cows near Barney's farm |
| 6 | X: 216, Y: 198 | On a stack of grain sacks at Barney's Silo |
| 7 | X: 183, Y: 193 | Sitting on the left of the ruin entrance on the wall |
| 8 | X: 146, Y: 167 | When entering the Vineyard in the wine fields to your right, sitting by several of the wine barrels by the outer walls |
| 9 | X: 138, Y: 169 | At the restaurant on top of the Manor |
| 10 | X: 113, Y: 179 | Riding Hall on top of one of the jumps |
| 11 | X: 115, Y: 168 | Near the Riding Hall on a small cliff facing Golden Hills |
| 12 | X: 249, Y: 92 | On the fence at the training grounds above the stone circle by Valedale |
| 13 | X: 283, Y: 106 | By the dock in Valedale |
| 14 | X: 313, Y: 156 | At the new Firgrove Trail, on the timber log running across a gully that leads to the Mountaineer's cabin. |
| 15 | X: 335, Y: 128 | Valedale lake - underneath the big tree in the middle of Valedale lake. Not possible to directly see this from the road, you have to climb up to the left from the bridge |
| 16 | X: 311, Y: 176 | At the beginning of the new Firgrove trail, at a viewpoint over the fireplace |
| 17 | X: 337, Y: 181 | In Firgrove on a fence close to the horse hairdresser |
| 18 | X: 270, Y: 227 | At the apple orchard on a ladder |
| 19 | X: 284, Y: 85 | On the road towards the entrance to the Valley of the Hidden Dinosaur |
Chapter 3 - Jarlaheim and Jorvik City 
| Number | Coordinates | Notes |
| --- | --- | --- |
| 1 | X: 38, Y: 249 | Situated inside Jarlaheim, close to the mayor, on a rock |
| 2 | X: 40, Y: 253 | On the city walls, overlooking Paddock Island |
| 3 | X: 49, Y: 255 | Stablebucks cafe |
| 4 | X: 63, Y: 252 | On fence next to sunflower field on Seahorse Point |
| 5 | X: 24, Y: 266 | In the pumpkin field on Paddock Island |
| 6 | X: 28, Y: 234 | Middle of Sunfield Farm by the big tree |
| 7 | X: 12, Y: 252 | Pig pen by Jorvik Stables |
| 8 | X: 37, Y: 228 | On fence behind the house on Tor's Heel (overlooking Sunfield Farm) |
| 9 | X: 49, Y: 247 | Inside Jarlaheim on a fence close to the eastern city gates |
| 10 | X: 74, Y: 252 | Goldspur's Mill inside the pen with the animals. |
| 11 | X: 7, Y: 6 | Jorvik City Mall, inside the Horse Equipment store. |
| 12 | X: 4, Y: 4 | Jorvik City Mall, on a table outside of the cafe. |
| 13 | X: 0, Y: 6 | Jorvik City Mall, inside Purple Pony store, display shelf. |
| 14 | X: 0, Y: 7 | Same as above |
| 15 | X: 0, Y: 3 | Governor's Fall by "Star Stable Headquarters" |
| 16 | X: 6, Y: 2 | Governor's Fall in black convertible car |
| 17 | X: 9, Y: 9 | Governor's Fall inside Leonardo's Ice Cream Parlor, on one of the tables near the stage. |
| 18 | X: 6, Y: 1 | Governor's Fall next to #16 by the road closure |
| 19 | X: 11, Y: 6 | Governor's Fall outside Leonardo's Ice Cream Parlor, on a green recycle bin underneath a tree next to two benches. |
| 20 | X: 9, Y: 3 | Aideen's Plaza by sleeping person. |
| 21 | X: 6, Y: 5 | Aideen's Plaza by the golden statue on the fountain, next to Konrad. |
| 22 | X: 11, Y: 7 | Aideen's Plaza next to pantomime guy in side street. |
| 23 | X: 8, Y: 1 | Aideen's Plaza sitting in wicker chair outside the cafe. |
| 24 | X: 3, Y: 9 | Aideen's Plaza in side street on boxes |
Chapter 4 - Mistfall and South Hoof Peninsula
| Number | Coordinates | Notes |
| --- | --- | --- |
| 1 | X: 191, Y: 386 | South Hoof outside The Stone Circle, on a tree root. |
| 2 | X: 173, Y: 354 | South hoof in the small stone circle by the bridge to New Hillcrest Stables |
| 3 | X: 206, Y: 397 | South Hoof in the Carrot Patch by Hermit's Cottage |
| 4 | X: 203, Y: 401 | Boat trailer by the Hermit's Cottage |
| 5 | X: 287, Y: 392 | Sigrid's House - sitting on some boxes on the closest side to the outhouse. |
| 6 | X: 290, Y: 392 | South Hoof Lighthouse |
| 7 | X: 275, Y: 377 | Next to a tall rock by South Hoof Farm just off of the road that goes between the lighthouse and the farm. |
| 8 | X: 271, Y: 352 | South Hoof Farm - on a hay bale near the cows under the tree. |
| 9 | X: 270, Y: 357 | South Hoof Farm, by the Hanging laundry by Jonas' House |
| 10 | X: 264, Y: 367 | Up the right side ramp of the Home Stable at South Hoof Farm |
| 11 | X: 263, Y: 355 | By the well near the corn field at South Hoof Farm |
| 12 | X: 271, Y: 357 | On Jonas' House Doorstep |
| 13 | X: 253, Y: 342 | At the top landing of the Ferry Dock at South Hoof |
| 14 | X: 322, Y: 256 | Birk's Grange by one of the houses |
| 15 | X: 326, Y: 302 | Near the bridge at the Keel |
| 16 | X: 378, Y: 341 | Facing the sea by the base of a red-leaved tree nestled in mushrooms which is near to a picnic/bbq area just outside of Dundull, |
| 17 | X: 381, Y: 349 | Sitting on the Pen in Dundull where two Connemaras are held |
| 18 | X: 359, Y: 356 | On the longest dock in dundull facing South Hoof. Violet the Ranger stands near this dock. |
| 19 | X: 382, Y: 359 | At the base of the giant circular runestone in the middle of Dundull |
| 20 | X: 392, Y: 356 | At Kit Shorthouse's Home where she sells foxes - on the porch. |
| 21 | X: 393, Y: 347 | At the Dundull Stable where horses are sold, sitting on a green wheelbarrow |
| 22 | X: 391, Y: 348 | To the left of the Dundull Trailer sitting on the hitching post. |
| 23 | X: 396, Y: 333 | At Kora's Cottage - in front of house on crate with flower pots. |
| 24 | X: 395, Y: 315 | At Berry Hill - on a rock near a clump of red and white mushrooms. |
| 25 | X: 391, Y: 298 | At the Ranger Station sitting on a fence |
| 26 | X: 380, Y: 294 | Take the road going up the right at the Wolves Den and follow it to the top of the mountain, token will be sitting by the big white tree |
| 27 | X: 380, Y: 320 | Underneath the hill where a small cove of water is. |
| 28 | X: 381, Y: 307 | On the upper levels of Bramble Gorge, Next to a tent at a campsite |
| 29 | X: 363, Y: 326 | At the rest area on the Peregrine Trail |
| 30 | X: 384, Y: 334 | A tree stump next to a cut down tree along the Wagon Train Road |
Chapter 5 - Epona, Golden Hills, Valley Of the Hidden Dinosaur
| Number | Coordinates | Notes |
| --- | --- | --- |
| 1 | X: 305, Y: 69 | Valley of the Hidden Dinosaur to the left of the cabin near the elevator, standing up against some sheets of ice |
| 2 | X: 307, Y: 47 | Sitting next to Nic Stoneground |
| 3 | X: 332, Y: 50 | On top of the hill with the lightning rod |
| 4 | X: 331, Y: 38 | In front of the Hidden Dinosaur's mouth on a small hill near a couple of large rocks |
| 5 | X: 338, Y: 32 | At the top of Icepeak Island in the small ice cave |
| 6 | X: 343, Y: 15 | In the area with geysers by the bridge that leads to icepeak island |
| 7 | X: 319, Y: 11 | Sitting in front of Icengate |
| 8 | X: 386, Y: 86 | In the of Valley of Frozen Mist near the entrance of the dead trees. |
| 9 | X: 365, Y: 58 | The top of the mountain at the ashen steep, the broken bridge leading to ashland. |
| 10 | X: 343, Y: 42 | Next to the crashed Helicopter |
| 11 | X: 118, Y: 158 | Goldenhills Valley at jasper's Pumpkin farm near the back right corner of the pumpkin patch |
| 12 | X: 119, Y: 149 | At Jasper's pumpkin farm in the potato patch left of the big brown barn |
| 13 | X: 55, Y: 158 | Near a small fishing dock on the beaches near the Smuggler's Cave |
| 14 | X: 86, Y: 134 | On a small rock near the center of the Goldenhills Forest |
| 15 | X: 76, Y: 149 | Behind a small brown fence near a brown shed |
| 16 | X: 118, Y: 126 | Off to the right of Shadowhill Road heading towards the Witch Pi's house |
| 17 | X: 43, Y: 71 | Behind the Goldenhill Stables Paddock in a corner with a tree |
| 18 | X, 35, Y: 85 | Inside the Goldenhill Stables sitting on a horse to the left |
| 19 | X: 29, Y: 127 | Next to the lighthouse in Cape West Fishing Village |
| 20 | X: 38, Y: 122 | Near the top of the Cape west village sitting on a post by a blue house |
| 21 | X: 71, Y: 317 | In Epona next to a large rock in the center of a plowed field Near the Poisoned Pond |
| 22 | X: 49, Y: 314 | On a steep hill near the edges of Shipwreck Shore |
| 23 | X: 72, Y: 344 | Bordering Epona lake, sitting on a rock |
| 24 | X: 84, Y: 328 | Near the crescent moon stables, in-between two houses sitting on a barrel next to some hay bales |
| 25 | X: 94, Y: 327 | In Pamela Moonriver's Flower garden, sitting on a bee box |
| 26 | X: 96, Y: 348 | At the Buttergood Mansion to the right of the door sitting on a stump |
| 27 | X: 93, Y: 344 | Outside the Buttergood Mansion sitting on a bush of red flowers |
| 28 | X: 113, Y: 321 | In the Mirror Marshes sitting on a stump |
| 29 | X: 106, Y: 350 | On the western side of the bridge spanning the great thunder. Between New Hillcrest and Old ridge caster |
| 30 | X: 124, Y: 323 | In the Mirror marshes on a stone wall near Professor Hayden's research spot |
| 31 | X: 130, Y: 305 | At Observatory 12 up the rear ramp, sitting on the fencing. |
| 32 | X: 147, Y: 299 | At Dew's Old Paddock sitting on the fencing near the entrance |
| 33 | X: 169, Y: 277 | Dew's Farm, northwest of the well in the center of the farm. |
| 34 | X: 174, Y: 283 | Dew's Farm, on the fence near the entrance of the square paddock next to the three silos |
| 35 | X: 154, Y: 345 | In the the periwinkle flowers patches of the road towards New Hillcrest stables |
| 36 | X: 144, Y: 346 | At the rockwell family's home on the right of the stone wall bordering the home |
| 37 | X: 138, Y: 338 | In the middle of the New Hillcrest Homes, sitting on a blue chair |
| 38 | X: 129, Y: 347 | New Hillcrest by the square paddocks, sitting on a white bush |
| 39 | X: 142, Y: 376 | On Sunset Island under a small tree |
| 40 | X: 127, Y: 345 | On a fence post bordering the Sunflower patch in New Hillcrest |
| 41 | X: 95, Y: 275 | Just inside the eastern Gate of Stormgarden Fields |
| 42 | X: 94, Y: 300 | In Stormgarden in the Chicken coop next to Li Jian |
| 43 | X: 100, Y: 297 | In Stormgarden in-between two cows near Ming Yue |
| 44 | X: 103, Y: 305 | Follow the path from Crescent Moon Village up to Stormgarden. Before reaching the gate, on your right, Token is sitting on the cliff by an Evergreen tree. |
| 45 | X: 65, Y: 290 | At Seahorse Beach, sitting on a a large log |
Chapter 6 - The Secret Chapter
| Number | Coordinates | Notes |
| --- | --- | --- |
| 1 | X: 526, Y: -93 | In Pandoria, west of the portal entrance, in a patch of mushrooms |
| 2 | X: 524, Y: -110 | west of the portal, follow the path through the orange and purple kelp until you reach a blue cave. in the blue cave there will be two tunnels. The token will be in the entrance to the right tunnel. |
| 3 | X: 534, Y: -100 | From where the fourth token is found, headsouth east through the pink and purple trees continue until you reach a clearing with white treelike coral formations, token will be in the middle next to a pink crystal |
| 4 | X: 526, Y: -113 | From where the second token was found, head through the left hand side of the fork in the blue tunnel and head right when you reach the end. follow the path up until you are in between two sets of pink crystals, then jump to the path in front of you. Once on the opposite side, head right and follow the path. near the top you will notice the terrain change to that of five floating islands. once you reach the top of them face east and jump to the island in front of you. head through the blue tunnel on your left and you will find the token near the edge of the island past some giant mushrooms. |
| 5 | X: 535, Y: -104 | Starting at the portal entrance again, head right and follow the path until you see large pink spikes and a black smoke monster. Jump over to that island and head left towards a forest of pink spikes. Avoid the other smoke monster. |
| 6 | X: 454, Y: 98 | Stonecutter's Vault directly in the entrance sitting on a stone pedestal. |
| 7 | X: 457, Y: 101 | Stonecutter's Vault Starting from the entrance head to the right through a doorway. follow the path to another doorway and turn right. Token will be sitting on a pedestal in a round room. |
| 8 | X: 8, Y: 8 | Pier 13 near the first set of scaffolding |
| 9 | See Notes | Inside the Pier 13 building inside the laboratory |
| 10 | X: 289,Y: 109 | Inside the Valedale home where Justin is kept prisoner. |
| 11 | X: 289, Y: 109 | Inside the same Valedale home where Justin is kept prisoner but this one is in the dungeon in Justin's cell. |
| 12 | X: 109, Y: 69 | In Fripp's secret home inside the secret stone circle. |
| 13 | X: 160, Y: 217 | Inside the Ydris' circus tent near the middle of the ring. |
| 14 | X: 138, Y: 171 | Inside Silverglade Manor on a table to the right of the entrance. |
| 15 | X: 265, Y: 100 | Just outside the entrance to the secret stone circle. |
| 16 | X: 187, Y: 190 | Inside the silverglade clock tower sitting on the face of the clock. |
| 17 | X: 184, Y: 213 | In Silverglade castle at the top of the righthand staircase |
| 18 | X: 123, Y: 98 | At Pi, the witch's house, in her cauldron |
| 19 | X: 337, Y: 234 | Just outside the Bear's cave in Firgrove |
| 20 | X: 41, Y: 196 | At the Forgotten fields at the ancient tree on a pedestal |
| 21 | X: 14, Y: 246 | Jorvik stables on the staircase to the front of the barn |
| 22 | X: 234, Y: 274 | At the top of the centermost tower of fort pinta |
| 23 | X: 43, Y: 253 | Inside Thalia's small theatre in Jarlaheim |
| 24 | X: 390, Y: 288 | Follow the trail up the hill behind the ranger station. Once you reach the top with the red tree turn north and walk through the green bushes to reveal a hidden path. Token will be there. |
| 25 | X: 339, Y: 302 | At the very end of the peregrine trail in the cave |
| 26 | X: 153, Y: 266 | At the campsite where the soul riders meet up. Token is sitting on a saddle rack. |
| 27 | X: 122, Y: 297 | At the bottom of The Cauldron in Epona |
| 28 | X: 133, Y: 301 | Inside observatory 12, next to Mrs. X |
| 29 | X: 101, Y: 343 | At the Twilight Temple sitting on a bench |
| 30 | X: 85, Y: 271 | At the Unsuccessful gift behind Mrs. Pike's house |
Trivia