Tellina
is a magic horse breed that is available in
Star Stable Online
.
Description
"The swirling seas around the island of Jorvik are teaming with magic and mystery, and from these waters emerge a pearlescent horse known as Tellina.
Whimsical by nature, Tellina prefers to stick to the shallow waters and rocky outcrops of Jorvik's coast, collecting seashells with a mother-of-pearl sheen that matches their glossy coat.
Because of their affinity for shiny things, Tellina has developed a sharp vision and can spot things from great distances, but this means that they are sometimes easily distracted.
Jorvegian seafarers share fascinating tales of magical sea-horses that only appear when in dire need. When a sailing party gets lost on the seas, they claim to see a pearlescent horse appear on the rocks, their presence calming the troubled sailors.
These horses will stand in the direction of the mainland, guiding the disoriented seafarers back home safely. They call these horses the Tellina, after the sunrise tellin shells their coats resemble.
The origin of these magical horses is a mystery, but some whisper of a once lush islet off the coast of South-East Jorvik, where magic horses roamed free. Until one tragic day when the land sunk into the ocean, leaving the horses without a home. They say the Tellina that have stepped ashore on Jorvik are descendants of the horses from this fabled islet.
Like other Magic Horses in Jorvik, Tellina shows its true colors in wild places and will conceal its appearance in populated areas. Whether in its magical form or disguised to blend in with other horses, Tellina rides just like the Akhal Tekes it most resembles". - Star Stable Online
Color Changing
The Tellina has a special magic that makes it change colors. When In the wild, it changes from its neutral colors to its natural colors. When the horse approaches Jorvik's different villages it regains its more realistic colors. Unlike the Jorvik Wild Horse which gained this ability through Pandoric energy, Tellina's magical ability is entirely its own.
Colors, Pricing, and Location
The Tellina's concept art was shown on SSO's social media accounts on May 15, 2020. On May 26, 2020 an official teaser video was dropped, with date of June 3rd, 2020 given at the time. The Tellina was sold by
Gary Goldtooth
on
Fort Pinta's Beach
from June 3rd to the 17th of 2020.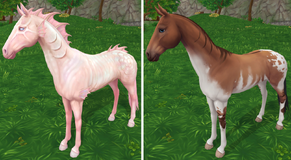 The breed shares its model with the Gen 3 Akhal-Teke, and because of this, they have the same stats, and price of the hot-blooded breed.
The Tellina is sold for 850 SC and comes in one variation:
Natural Color: Nacre (mother of pearl) body with pink fins and tail.
Neutral Color: Bay pangaré dun spotted blanket
Trivia
The term Tellina describes the genus of marine bivalve molluscs in the the family Tellinidae

the word comes from the New Latin, Greek tellinē, meaning "shellfish" and as Tellina is modeled after mother of pearl (an organic–inorganic composite material produced by some molluscs as an inner shell layer), this is an appropriate name.
Community content is available under
CC-BY-SA
unless otherwise noted.