Techno is a dog living outside the Riding Arena. There he acts as a guard dog after the arena was vandalized. He is Disco's older brother and was previously owned by Landon. 
Appearance
It is not specifically mentioned what breed Techno is, but it is likely that he belongs to one of the bulldog breeds. He is a small grey dog with a stubby tail and white paws. His ears are black and he has black spot over one eye. Techno also wears a black spiked collar.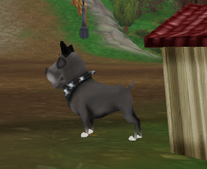 Star Stable Online
Every Friday, Tyra sends the player to give Techno a treat because his visitors gives him candies, which isn't good for his stomach.
Trivia
Techno is involved in one of the quests that will help the player unlock Goldenhills Valley.