Overview

Other Appearances
The SuperShire was a fictional horse breed that was available in Star Stable Online.
Timeline
| Date | Development |
| --- | --- |
| April 1, 2016 | The SuperShire is placed in Fort Pinta as an April Fools Day prank. It is removed from the game the next day. |
Description
"The SuperShire is an unusual and exclusive horse breed that James' very best friends can buy.
It's said that the SuperShire came to be after a boat carrying dangerous toxic waste ran aground close to a stable known for training top-quality Shire horses. As a result, the SuperShire started to develop its incredibly large, strong and fast qualities.
The SuperShire has trouble jumping because of its size, but what does that matter when it's strong enough to just run straight through most obstacles? Here at Star Stable HQ, we noticed how much you all loved the Shire horse when it was released, but that some of you wanted it to be bigger. This is why we're now releasing this SuperShire just for you! "
Unique Features 
Feathers 
The SuperShire sports heavy feathering on its legs. This long hair covering the horses' canon and fetlock means that the SuperShire cannot wear leg wraps or open front boots in the game.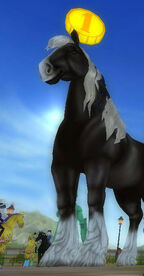 Colors, Pricing, and Location
The SuperShire was sold for 25 SC in Fort Pinta, but due to the requirements for purchase, no one could buy it. It came in one variation.
Note: This horse will not be returning to the game and is not available for purchase.
Trivia
The SuperShire was the tallest horse model ever added to Star Stable Online
The SuperShire's color was a combination of two of the regular Shire's coat colors.

It was a mix between the Faded Black Shire's coat, and the Black Pinto Shire's mane and tail.

The SuperShire could not be ridden.
The SuperShire could not wear tack.
The SuperShire could not have it's hairstyle changed.