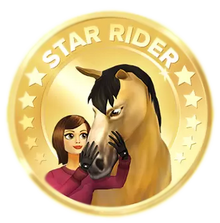 Being a Star Rider (SR) means that you're a paying member of Star Stable Online. As a Star Rider you get access to many exciting game features as well as all the areas on Jorvik. Every Saturday all the Star Riders receive a weekly allowance of 100 Star coins
Become a Star Rider
On Star Stable Online website you'll be able to select which Star Rider subscription you'd like to buy. You can subscribe for a month, three months, or choose a Lifetime subscription. There is also a pay by mobile option. If you're not a Lifetime subscriber you can become a Star Rider again once your subscription has ended. 
Star Coins (SC)
Once you buy a Star Rider subscription, you will be given a specific amount of Star Coins once: the longer your subscription, the more you get at the beginning. The one-month subscription gives you 100 SC (at the beginning only) the three-month subscription gives you 300 SC, and the lifetime subscription will give you 1200 SC normally.
Advantages
Receive a weekly allowance of 100 Star Coins every week
Create your own riding club
Explore the whole of Jorvik
Solve the hundreds of quests in Jorvik
Be able to access levels above level 5
Limited items only for Star Riders
Buy horses only available to Star Riders
Trivia
Jumping used to be only usable by Star Riders, but in the Wednesday update 2018-06-27 it became available for everyone.
Community content is available under
CC-BY-SA
unless otherwise noted.