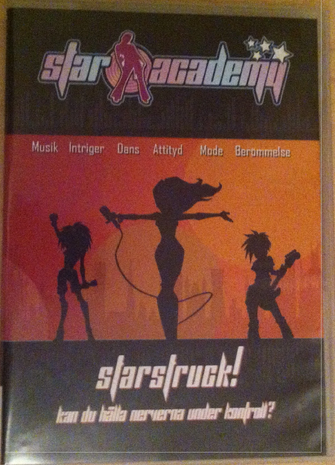 Star Academy: Starstruck! is the fourth and finishing game in theStar Academy series. The song performed in this game is called You Don't Know.
!NOTE! This game is separate from Star Stable Online. It has to be bought for you to be able to play it, and it can not be downloaded.
Game summary
Mr. Wetton informs the band about the upcoming Jorvik Music Festival, which is a great opportunity to develop a career. You should perform a song on it that has never been played anywhere before. As part of the band's promotion, Mr. Wetton arranged several concerts in the city. In order to prepare for them, the player goes to the mall to talk to an old friend, sound engineer Ben. She brings him a cable from Mr. Grimp and a microphone from Kevin, with whom she simultaneously works on a new song.
When the player comes to school to give back the borrowed equipment, music from all the speakers she has just sang is playing. She must turn it off so that the team is not disqualified. Unfortunately, Mr. Bergen has already excluded them from the competition. Clarence Stillwater then offers the player a contract, but she refuses. By showing the director Kevin's CD and the disc that played in school, the player manages to convince him to re-admit the team to the competition. The quartet performs, and after performing a fine encore with Kevin, she wins the festival.
Trivia