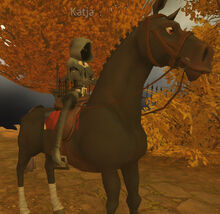 Stalker was Katja's dark horse, very similar to Sabine's horse Khaan.
Now her horse is called Mortifa.
Starshine Legacy
Stalker appears in Starshine Legacy: The Riddle of Dark Core.
Star Stable Online
Stalker appears when the player competes with Katja on Scarecrow Hill, and in several other encounters including her.
Trivia