Spiders are a game mechanic similar to the Fallen Stars. There are large brown, green, and blue spiders throughout Star Stable Online. Spiders, unlike Fallen Stars, do serve a purpose as part of a quest involving Professor Hayden. Collecting all of them will result in completion of the quest as well as a full set of tack.
The amount of spiders collected in an area can be seen when clicking the "journal" button on the user interface or simply pressing the "J" button on your keyboard.
Finding Spiders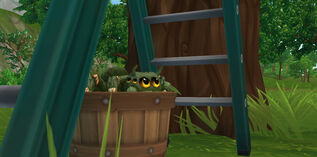 After receiving the quest from Professor Hayden to search for the baby spiders, the babies will be placed in select areas all over Jorvik.
Unlike the stars, which make no indicators to their presence, once near a baby spider, the player will be able to hear a squeaking, almost meowing sound, that grows louder the closer the player is.
Rewards
The player will be rewarded by Hayden for finding the baby spiders. Depending on the amount you've collected you will receive a special piece of tack from Hayden.
| Number of Spiders | Reward |
| --- | --- |
| 10 | Leg Wraps |
| 20 | Bridle |
| 40 | Saddle Pad |
| 60 | Saddle |
| 80 | Saddle Bag |
| 100 | Walking Pet Spider |
Locations
There are 100 baby spiders in-game. Below you will find the location and the coordinates to the spiders in-game.
Do not add location coordinates and information if getting to that area requires bugs, glitches, or exploitative actions to the game.
Eastern Epona
| Number | Coordinates | Notes |
| --- | --- | --- |
| 1. | X:118 Y:369 | At Fort Maria on the wall by the door |
| 2. | X:156 Y:364 | Next to the bridge to South Hoof, out on Mirror Rocks |
| 3. | X:166 Y:331 | Is hiding in the cattails, on the sand |
| 4. | X:168 Y:305 | On the cliff next to the runestone heading down towards the water. |
| 5. | X:166 Y:273 | At Dew's Farm inside the barn. crawling on wall |
| 6. | X:135 Y:275 | In the Guardian's Dale, behind the winged statue |
| 7. | X:106 Y:345 | Under a rock jutting out from The Great Thunder |
| 8. | X:99 Y:397 | On the Old Wreck |
| 9. | X:188 Y:274 | On a rock in the water |
| 10. | X:132 Y:301 | Inside Observatory 12, in an open box on the bottom level |
Firgrove
| Number | Coordinates | Notes |
| --- | --- | --- |
| 1. | X:301 Y:211 | At Silverglade Mines, on the second story at the back side. You can jump from the rock at the back onto the roof, jump over the next taller roof, and then the spider is on the wall. |
| 2. | X:271, Y:225 | In the Apple Grove, in an apple bucket under a ladder |
| 3. | X:258, Y:251 | From Starshine Ranch go SW to the beach along the river. Spider is on a tiny dock out in the water next to the Fisherman's Hut and picnic spot. |
| 4. | X:340 Y:232 | In the cave with the bear (dismount and go around the edge of the inside of the cave). Stay as close to the wall as you can to avoid waking the bear. |
| 5. | X:327 Y:224 | At the Mountain Dumping Site in the bush between the cement pipe and the bags of cement. |
| 6. | X:249 Y:189 | Under the bridge on the Firgrove side |
| 7. | X: 342 Y:159 | From Firgrove take the Firgrove Mountain Passage. As you reach the top, the spider is on a large tree on your right, beside the cliff. |
| 8. | X:296 Y:161 | Follow the mountain path from Firgrove (aka the Red String trail) up to the top until you've reached X:311 Y:150. Turn left and follow the green/grassy path until you've reached the Primeval Tree at X:305 Y:153. Continue SW past the Primeval Tree and over the rock with the dirt path. Follow the dirt path to the Highest Point in Jorvik (X:293 Y:163). Turn right and walk along the dirt path atop the mountain crest to the coordinates on the left. The spider is on the side of the mountain. |
| 9. | X:343 Y:170 | In a white flowerbox on a building next to the cafe |
| 10. | X:344 Y:224 | On the ground to the left of the door between the stacked barrels outside the barn where the spies live. |
Fort Pinta
| Number | Coordinates | Notes |
| --- | --- | --- |
| 1. | X:231 Y:258 | In-between two rocks to the right of the fishing dock, just beneath the city. |
| 2. | X:247 Y:275 | Underneath the elevated dock at the beach. |
| 3. | X:245 Y:246 | Wedged between rocks in water  |
| 4. | X:243 Y:233 | At Doyle's Abbey on the outer side of the wall. |
| 5. | X:229 Y:264 | Inside the cannon on the deck between James and Sindra. |
Goldenhills Valley
| Number | Coordinates | Notes |
| --- | --- | --- |
| 1. | X:116 Y:156 | Hiding in the pumpkin field near two groups of pumpkins. |
| 2. | X:53 Y:145 | On the back of Scarecrow Hill on the side of the cliff, you must jump to reach |
| 3. | X:78 Y:146 | Overhanging a small hill just south of Scarecrow Hill. Approach from the grassy side and it's just on the other side of the top of the cliff. |
| 4. | X:104 Y:158 | By the water, near a runestone on a beach in a small dip to the south of the entrance to GHV. |
| 5. | X:53 Y:134 | Blue spider on the back of a barrel towards the end of the Labyrinth shore. |
| 6. | X:45 Y:89 | Between some rocks by the water at Goldenleaf Stables where you cross from the stables to Aideen's Ascent. |
| 7. | X:35 Y:141 | Sitting on a tire pin the dock - the last tire on the left before you reach the ferry. |
| 8. | X:47 Y:106 | Head to X:45, Y:89 and cross the water to Aideen's Ascent. Follow the path to the right and up to the cave Smuggler's Roost. Inside the front right wall of the cave. You will have to jump to get it. |
| 9. | X:76 Y:131 | On a tree trunk in the Goldenleaf Forest. Just past Scarecrow Hill on the Golden Road, take the path down into the Forest that starts at X:68 Y:135. At the bottom of the hill, the path ends in a T intersection with the race path. The bigger tree to your left, just past a race obstacle is the one with the spider. |
| 10. | X:120 Y:100 | At Pi, the witch's house underneath the ramp to the second floor railing |
The Harvest Counties
| Number | Coordinates | Notes |
| --- | --- | --- |
| 1. | X:62 Y:259 | In a flower field at Seahorse Point |
| 2. | X:45 Y:253 | In Jarlaheim at Jarlaheim wall in a turret on the ceiling |
| 3. | X:57 Y:203 | In the Forgotten Fields, at the top of the twisting hill  |
| 4. | X:99 Y:194 | Near the riding hall at the river, on a small rock |
| 5. | X:58 Y:178 | By the runestone |
| 6. | X:43 Y:272 | By the broken bridge on Paddock Island |
| 7. | X:43 Y:253 | Inside Thalia's Studio in a box |
| 8. | X: 109 Y:242 | Up in the Tree House hanging to the trunk |
| 9. | X:78 Y:188 | This spider moves around circumference of this hill outward from the base, you may need to log in multiple times to catch it  |
Jorvik City
| Number | Coordinates | Notes |
| --- | --- | --- |
| 1. | X:14, Y:14 | At Pier 13 on the lower edge of the dock |
| 2. | See Notes | At Pier 13 in the large building in the middle of the area, in the lab portion, in the open cage near the back |
| 3. | X:10, Y:2 | At Aideen's plaza in a pink flower bush next to the building beside the big tree with the sleeping man (not the café).   |
| 4. | X:8 Y:8 | At Governor's Fall on back of stage in the ice cream parlor |
| 5. | X:5 Y:7 | At Governor's Fall in the shop window in the dog bed |
Mistfall
| Number | Coordinates | Notes |
| --- | --- | --- |
| 1. | X:323 Y:265 | In the wheat field at Birk's Grange |
| 2. | X:326, Y:302 | Under the bridge, you can walk into the water on the cliff-side of the bridge to reach it. |
| 3. | X:370, Y:342 | Out on a rock in the ocean to the right of some tall grasses.   |
| 4. | X:379 Y: 351 | Under Councilman Skoll's house |
| 5. | X:377 Y:334 | First house on the left after the last bridge before Dundull. Inside the house, under the bed |
| 6. | X:389 Y:292 | Take the path up behind the ranger station and it's under an upturned tree root on the outcropping. |
| 7. | X:372 Y:305 | In bushes next to a tree stump and tree on near the edge of a cliff on top of the Bramble Gorge tunnel. |
| 8. | X:363 Y:293 | On the highest cliff above the Wolves Den, in some bushes around the center of the cliff |
| 9. | X:382 Y:319 | Walking along the dirt wall at a small tunneled entrance to the lake. |
| 10. | X:373 Y:322 | Floating in the lake just off a small peninsula with a boathouse and boat - take the small path on the left just before the last bridge before you get to Dundull. |
Moorland
| Number | Coordinates | Notes |
| --- | --- | --- |
| 1. | X:188 Y:246 | Inside the stable area, hidden in some white flowers against the wall by a door. |
| 2. | X:192 Y: 254 | On the side of Ms. Holdsworth's house, next to her onion patch |
| 3. | X:217 Y:249 | In the boat on the right, behind Mr. cod   |
| 4. | X:180, Y; 228 | Inside Damascus mine, found crawling up and down the backside of the wooden column |
| 5. | X:214 Y:233 | Inside Jasper's old barn |
Silverglade Acres
| Number | Coordinates | Notes |
| --- | --- | --- |
| 1. | X:181 Y:213 | Right balcony of Silverglade Castle on a column. |
| 2. | X:203 Y:220 | On the edge of a cliff just past the rune circle overlooking the old construction site in moorland. |
| 3. | X:186 Y:192 | On the back of a red house, on the ladder. (post silverglade update; previously on second tier of fountain) |
| 4. | X:139 Y:160 | On a web in the wine cellar, first room on the left with shelves of barrels. |
| 5. | X:152 Y:179 | Second tier of grapes leading up to the Manor, before you get to the fenced in vineyard - look under the pipe. |
| 6. | X:168 Y:116 | At the blocked entrance of Northlink |
| 7. | X:166 Y:142 | On the hill |
| 8. | X:129 Y:211 | At the edge of Southsilver waters by Birch Hill |
| 9. | X:109 Y:201 | By Southsilver waters on a rock |
| 10. | X:199 Y:140 | Hiding in a bush |
South Hoof Peninsula
| Number | Coordinates | Notes |
| --- | --- | --- |
| 1. | X:177 Y: 352 | In the grass near the peninsula's north tip |
| 2. | X:184 Y:378 | In a hole by the trunk of the Singing Yew |
| 3. | X:215 Y:357 | Nestled in purple flowers between two tall rocks. |
| 4. | X:272 Y:363 | Behind Hugh's house on the attached shed ceiling. |
| 5. | X:208 Y:401 | On some rocks by the beach near the Hermit's house |
| 6. | X:196 Y:354 | On the front/ocean side of a large rock on the beach. You can walk/swim around the front of the rock to reach it. |
| 7. | X:273 Y:338 | On a rock along the north-eastern side of the beach. Facing south on the ferry landing, go left (east) along the beach. |
Western Epona
| Number | Coordinates | Notes |
| --- | --- | --- |
| 1. | X:72 Y:339 | On a pipe on the side of the house next to Frederik the Alchemist. |
| 2. | X:49 Y:333 | In the bunker behind the first inside door you open at the bottom of the slope. |
| 3. | X:111 Y:313 | Inside the cave arch at The Moon Spring. |
| 4. | X:90 Y:283 | Start at Stormgarden and take Jarleheim road NW. Go into the grape fields on the left. The spider is in a row near a tree surrounded by stones. |
| 5. | X:86 Y:325 | Go behind the house directly across the road (facing N) from the mill in Crescent Moon Village. The spider is in the barrels against the wall of the smaller back cottage next to the outhouse. |
| 6. | X:76 Y:319 | In the middle of Poison Pond on a metal box amidst the reeds. (Located NE of the Crescent Moon Village race.) |
| 7. | X:67 Y:289 | At Stormgarden, go NW along Jarlaheim road and turn left onto the Western Trail along the ocean, in between the grape fields. Down on Seahorse Beach, the spider is on the water-end of a log partially in the water and partially on the beach. |
| 8. | X:69 Y:299 | Follow the Western Trail into Old Stormgarden and the spider is under the well roof near the entrance. |
| 9. | X:92 Y:301 | At Stormgarden, inside the barrels against the outer wall of the house. (To the right of a box of carrots.) |
Valedale
| Number | Coordinates | Notes |
| --- | --- | --- |
| 1. | X:293 Y:96 | On the ceiling inside the shed behind Avalon's house. |
| 2. | X:298 Y:89 | On the cliff wall behind the waterfall near Avalon's house. |
| 3. | X:259 Y:99 | The spider is on a tree trunk underneath the Druid training area. |
| 4. | X:249 Y:134 | Next to picnic area on top of a rock, on top of another rock. You must jump to reach it. |
| 5. | X:239 Y:154 | In a bush by the abandoned summer house |
| 6. | X:334 Y:109 | Valedale Lake. Take the race track to the closest path to the waterfall. Just east of the waterfall (X:329 Y:111), take a left off the path and go up the side of the mountain. The spider is at the coordinates on the left on the back of a rocky cliff. |
| 7. | X:332 Y:137 | Valedale Lake. Next to a big rock In the water. You will need to jump from this coordinate to get it. |
| 8. | X:308 Y:114 | Near entrance to Valedale Lake. From Valedale go up Lake Road until you reach the last turnback to the lake. Go straight past the tree toward the coordinates on the left. The spider is on top of the boulder at the base of a large fir tree near the fence. |
| 9. | X:266 Y:142 | In the water by the base of the Water Mill. |
| 10. | X:237 Y:78 | In the Spymaster's hideout, in a cage near his computer. |
Trivia