Overview

Other Appearances
The Solas, is a fictional horse breed that is available in Star Stable Online.
Timeline
| Date | Development |
| --- | --- |
| September 9, 2020 | The Solas was teased in an image on SSO's social media accounts. A release date of September 16 given at the time |
| September 15, 2020 | A trailer for the Solas is released on SSO's social media accounts. |
| September 16, 2020 | The Solas is added to the game for a limited time of two weeks. |
Description
"In Ireland, legend says butterflies can cross over from the human world to the otherworld. On Jorvik that other place has a different name, Pandoria, and it is a rare breed of magical horse, not butterflies, who cross over...
Bright as the break of dawn, Solas is said to pass between this world and another, a reality that lies in tandem with Jorvik. A place of pink skies and floating islands, glowing mushrooms, and panda rays. They reach this otherworld through winding cave systems hidden deep up Jorvik. Their time spent in the pin unreality has affected Solas' metabolism, giving them seemingly boundless energy. Jumping between floating islands has also made them surprisingly fleet-footed.
Their name comes from the Irish word for brightness and illumination, much like the horse's vibrant coat and personality. Solas' coat has many 'eyes' that closely resemble a peacock's feathers. Jorvegian storytellers allude this to the peacock butterfly, passing between worlds as the legends tell.
Like other Magic Horses in Jorvik, Solas shows its true colors in wild places and will conceal its appearance in populated areas. Whether in its magical form or disguised to blend in with other horses, Dorcha rides just like the Irish Cobs it most resembles." - Star Stable Online
Color Changing
The Solas is a magical horse with the special ability to change colors. When In the wild, it changes from its neutral colors to its natural (magic) colors. When the horse approaches Jorvik's different villages it regains its more realistic colors. The Solas evolved from contact with energy from Pandoria to the point where its magical ability is entirely its own.
Unique Features
Feathers 
The Solas sports heavy feathering on its legs. This long hair covering the horses' canon and fetlock means that the Solas cannot wear leg wraps or open front boots in the game.
Colors, Pricing, and Location
The Solas is sold for 850 SC. It is sold by Gary Goldtooth and comes in one variation.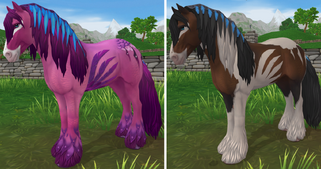 Note: This horse is released for limited periods of time and is not always in the game.
Natural Color: Pink Body, with a purple mane and tail, and blue, pink and purple feathers emerging along the crest, point of thigh, barrel, and the cannon bone.
Neutral Color: Bay Pinto with metal and blue feathered hair ornaments
Trivia
Solas uses the G3 Irish Cob model
Solas, like most other Magic Horses, cannot have it's hairstyle changed.
The name "Solas" means "light" in Gaelic.
The Solas is inspired by birds and butterflies.
Solas was was released as a pair with Dorcha.