Spoiler warning!
This article contains details about a questline.
Saga is Justin Moorland's horse.
She first appeared in SSO, as an older dapple grey
Irish Draft
, but in a quest line involving the
Witch Pi
, she transformed Saga into a young dapple grey
Hanoverian
with a white blaze.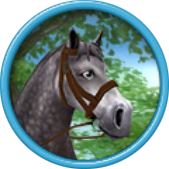 Etymology
Saga has two possible meanings:
The name Saga is the name of the Norse goddess of poetry and history, sometimes identified with the goddess Frigg.

It could possibly mean "seeing one" in Old Norse.

Saga is also a modern swedish word meaning "fairytale" or "story"
Star Stable Online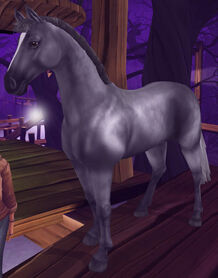 Saga used to live with Justin Moorland at Moorland Stable. When Justin started to question his lineage and went in search of his grandfather, he left Saga behind. While the Witch Pi originally captured Saga in hopes of turning her into a Dark Horse for the Dark Riders, she was convinced by the player to let Saga stay with her until Justin's return.
After Justin returns from dark core, Witch Pi uses her powers to turn Saga into a pig for hunting witch ingredients. Once her job is done, the Witch Pi transforms Saga back into a horse, but as much younger version of herself in the form of a Hanoverian.
Trivia
Community content is available under
CC-BY-SA
unless otherwise noted.