Pepita is a fictional horse breed available in Star Stable Online.
Description
"Jorvik is home to beautiful and majestic breeds from around the world, but the most amazing horses of all can only be found on this island. Horses with manes and tails in rainbow colors beyond imagination, horses that shimmer like jewels or burn with the fury of the elements -- these are the Magic Horses of Jorvik!
No one knows where Pepita, also known as a 'Gjourd Horse,' comes from. The mysterious breed tends to show up in late autumn when the leaves have turned and mornings are frosty.
A social breed, herds of Pepita tend to pop up on the outskirts of Jorvik's agricultural lands. Whatchful farmers hope for a glimpse of the curious horses observing the harvest, as Pepita is considered a good luck omen. In some rural corners of Jorvik, children leave a bucket of candy corn on the edge of fields as an offering of good will.
Pepita has a cozy scent reminiscent of nutmeg and cloves. Its mane is course and grows quickly. While Pepita is and excellent riding horse for all hours of the day, you can tell by the glimmer in its eyes that it most enjoys going for rides at twilight.
Like other Magic Horses of Jorvik, Pepita shows its true colors in wild places and will conceal its appearance in populated areas. Whether in its pumpkin-like form or in disguise, Pepita rides just like the Fjord Horses it most resembles - Star Stable Online
Color Change
Pepita has a special magic that makes it change colors. When In the wild, it changes from its neutral colors to its natural colors. When the horse approaches Jorvik's different villages it regains its more realistic colors. Unlike the Jorvik Wild Horse which gained this ability through Pandoric energy, Pepita has this magical ability all on its own.
Colours, Pricing, and Location
Pepita is a Generation 3 breed that was teased in the trailer for the
Curly horses
on October 14, 2019. It appeared in one scene, far in the background and was extremely out of out of focus. The breed was eventually released during the October 23, 2019 update along with the
Halloween
Event.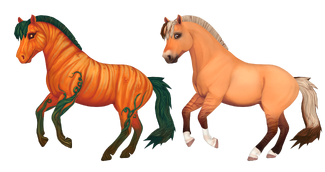 It shares it's model with Fjord Horse, because of this, they have the same stats, price, and cold tolerance of the Norwegian breed.
Pepita is sold for 850 SC and can be purchased during Halloween in Galloper's Keep:
Natural color: Orange Pumpkin-like texture with vine-like legs, mane, and tail
Neutral color: Apricot Dun
Trivia
Community content is available under
CC-BY-SA
unless otherwise noted.