The Mustang make appearances in the following games.
Star Stable
Description
"Some people refer to any wild horse as a mustang, but in order to be a true mustang a horse must be descended form the horses that were bought by the Spanish to the New World. Rough climate has turned the mustangs into tough horses, but they are all highly intelligent and demand to be treated with respect." - Star Stable: The Summer Rider
Locations and Colours
The Mustang makes an appearance in Star Stable: The Summer Rider.
It can be found at Snakebite Farm in one color, Black.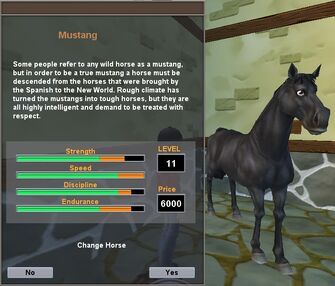 Trivia
The Mustang shares its model with the Friesian.