The Morgan makes additional appearances in the following games.
Star Stable
Description
"The Morgan was once considered the ideal horse for the United States Calvary. It is named after the owner of the first known horse in the line, a man by the name of Justin Morgan. Morgan bloodlines have played a part in the development of many of the American breeds, for instance the American Saddlebred and the Tennessee Walking Horse." - Star Stable: The Summer Rider
Locations and Colours
The Morgan makes an appearance in Star Stable: The Summer Rider.
It can be found at Cod Point Stables in one color, Bay.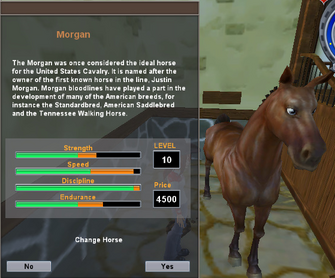 Trivia