The Morgan is a horse breed available in Star Stable: The Summer Rider, Star Stable Online and Star Stable Horses.
Description
"The Morgan was once considered the ideal horse for the United States Calvary. It is named after the owner of the first known horse in the line, a man by the name of Justin Morgan. Morgan bloodlines have played a part in the development of many of the American breeds, for instance the American Saddlebred and the Tennessee Walking Horse." - Star Stable Online
Colours, Pricing, and Location
Generation 1/1.5
The Morgan was announced on April 2, 2013 along with four other breeds slated to be released on April 10, 2013 where three variations were released. An additional color was released among a few other breed variations on February 12, 2015.
The four Gen 1/1.5 variations are sold for 260 SC and can all be found at Ferdinand's Horse Market:
Amber Champagne Buckskin
Dappled Buckskin
Liver Chestnut
Silver Brown
Generation 2
On July 29th, 2015, the Gen 2 Morgans were released in three variations. On August 26th, three more colors of Morgans were released. A seventh coat color was released on January 27th of 2016 and the eighth color was released on October 12th 2016 with the final color being released on May 3, 2017.
There are a total of nine variations of the Gen 2 models. They are all available for 790 Star Coins, and can be found at the following locations:
Black - Firgrove
Brown- Ferdinand's Horse Market
Buckskin - Crescent Moon Village
Cremello - Ferdinand's Horse Market
Dapple Grey - Firgrove
Light Grey - Ferdinand's Horse Market
Liver Chestnut - Ferdinand's Horse Market
Silver Bay - Ferdinand's Horse Market
Silver Black - Ferdinand's Horse Market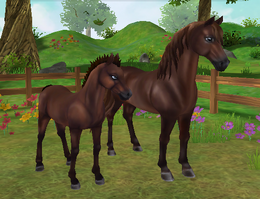 Star Stable Horses
On November 9, 2017, Star Stable Horses released a foal version of the already available Gen 2 Chestnut Morgan for players to raise. Players can still purchase a fully grown level one Chestnut in SSO.
The fully raised foal can be bought for 790 Star Coins.
Trivia
During the Wednesday update of June 3, 2020 the Gen 1/1.5 Morgan had it's prices changed in-game from an average of ~605 to a static 280 making it the cheapest horse in-game, and stealing the title from the Danish Warmblood (300 SC).
The Morgans were the first horse to get a remodel on Star Stable.
The Gen 1/1.5 Morgans were the last horses to be released with the starter horse model.
On April 4th, 2018, 4 Gen 2 Morgans with tack were released in the Traveling Fashion Market. They came at a higher price than the other Morgans.
When Gen 2 Morgans were first added to SSO, their bodies would bug out if the player performed daily care on them. This has since been fixed.
Community content is available under
CC-BY-SA
unless otherwise noted.