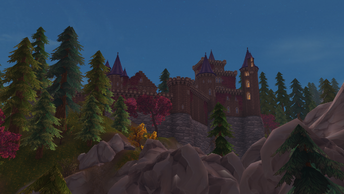 Marchenghast Castle is a yet to be released estate in Star Stable Online. The castle could be seen as early as 2017, but was officially teased and remodelled in the update of November 6th, 2019.
Even though the property hasn't been released yet, you can clearly see the castle from the bridge on The Old King's Road.
Etymology
The word "Märchen" is German for "fairytale", fitting to the castle's looks. "Ghast" has several meanings, all of which refer to something being strange or abnormal. "Marchenghast" therefore may mean "strange fairytale".
Trivia
The only proof of the ancient building being called 'Marchenghast Castle', is the sign pointing to the still blocked-off road leading up to the castle.
Prior to being named, players believed the castle to be Claymore Castle or McKinney Castle from Star Stable: The Autumn Rider.
Community content is available under
CC-BY-SA
unless otherwise noted.