The Lippizzaner makes additional appearances in the following games.
Star Stable
Description
"The Lipizzaner is considered an elegant horse and is popular thanks to their natural ability to perform extremely difficult riding maneuvers. It is popular with certain schools and for dressage. For instance the famous Spanish Riding School in Vienna uses only Lipizzaners. - Star Stable: The Spring Rider
Locations and Colours
The Dutch Warmblood makes an appearance in Star Stable: The Spring Rider.
It can be found at Beauvista Stables in one color, Dapple Gray.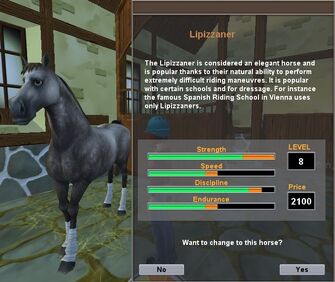 Trivia