Hrafnfaxa vom Schwanenteich is Lily Bones horse in Star Stable Online.
She is a black Icelandic horse, with no discernible markings.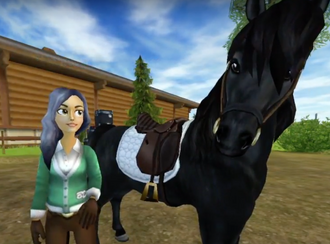 Etymology
Hrafnfaxa vom Schwanenteich has a three part meaning:
Hrafnfaxa is Icelandic for "raven-mane"
Von is a noble denoting title usually meaning "of" or "from"
Schwanenteich means "Swan Lake" in german

So all together her name means "Raven Maned of Swan Lake."
Trivia
Lily auditioned with Hrafnfaxa to have her play the role of Tintoretto in the Canter Ella Movie, despite Hrafnfaxa, being a mare.

In reality Lily only auditioned to annoy the Bobcat Girls.
Community content is available under
CC-BY-SA
unless otherwise noted.