The Hanoverian makes additional appearances in the following games.
Star Stable
Description
"Originally military horses, Hanoverians have, since World War II, been bred mostly for performance and have earned plenty of Olympic medals for Germany, its native country. It's an even-tempered horse that responds well to training." - Star Stable: The Autumn Rider
Locations and Colours
The Hanoverian makes an appearance in Star Stable: The Autumn Rider.
It can be found at Firgrove in one color, Dapple Grey.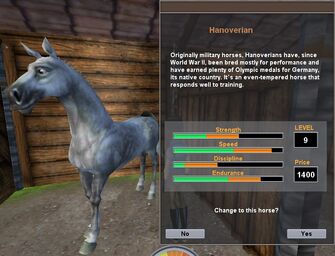 Trivia