The
Hanoverian
is a horse breed available in
Star Stable: The Autumn Rider
,
Star Stable Online
, and
Star Stable Horses
.
Description
"Known for it's calm and kind temperament, the warmblooded Hanoverian horse captured the hearts of the Jorvik population in the mid-20th century.
The Hanoverian is a beautiful, athletic and gracious horse, famous for it's equestrian sport abilities. Thanks to its perfect gait and movement it's become successful within all three main competition types; dressage, showjumping, and eventing." - Star Stable Online
Colors, Pricing, and Location
breed was first teased in a video on SSO's social media
July 29, 2017 with a
release date given as August 2, 2017. Three colors were released on this day with another being released
September 6, 2017, and a final variation released on January 3, 2018.
The five Hanoverian coats are sold for 890 SC each and can be found at the following locations: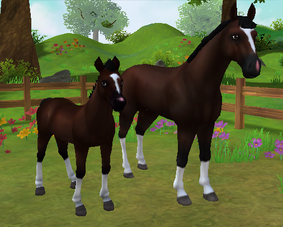 Star Stable Horses
On May 3, 2019, another variation of the Hanoverian was added to the Star Stable Horses app. The fully raised foal can be bought for 890 SC.
Trivia
Community content is available under
CC-BY-SA
unless otherwise noted.