Fort Pinta was built during the Viking ages when war raged the land. Today it's one of Jorvik's most popular tourist attractions.

— Star Stable Online
Fort Pinta is a fort located in the southernmost part of Silverglade. The fort was built by Jon Jarl in the 13th century, and was modernized by Governor Gareth in the 17th century. The chief manager of all affairs at the fort is James.
History
The fort was built during the Viking age and was used in many wars as a shelter. The fort was originally built by Jon Jarl in the 13th century, but was modernised in the 17th century by Governor Gareth, who also gave the fort its current name. A statue of Gareth stands at the western side of the fort.
Appearance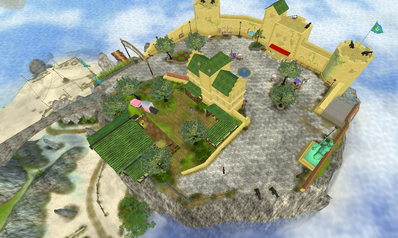 Fort Pinta is a town intended for tourists. It can be reached most easily by a narrow stone bridge, and sits on a stone outcrop that overlooks the ocean. In 2015, the graphics were redone and the locations of several buildings within the fort were changed.
Attractions and Amenities
The Fort Pinta disco, which is open on both Friday and Saturday nights for dancing at 8 pm.
Two separate hair salons.
A pet shop.
A notary, who can change your horse's name and who sells travel cards.
A bus stop that allows players to travel to Jorvik City Mall, Pier 13, Aideen's Plaza and Governor's Fall.
A stable that includes several horses for sale and the option to set Fort Pinta as the player's home stable.
The ferry docks, which offer transport to Cape West Fishing Village, Jarlaheim, and South Hoof Peninsula.
The pony barge, where the Jorvik Starter Ponies can be found for sale.
Fort Pinta Beach, which boasts picnic areas, a café, a swimming area complete with diving board, and a championship.
Many small shops where the player can buy saddle bags, clothing, gear, food, pets and accessories for their horses.
Trivia
Fort Pinta is one of the two towns that are available to non-Star Riders.
Community content is available under
CC-BY-SA
unless otherwise noted.