Overview

Other Appearances

The Erinys is a fictional horse breed available in Star Stable Online.
Timeline
| Date | Development |
| --- | --- |
| January 28, 2021 | The Erinys is teased in an image on SSO's social media. |
| February 2, 2021 | The Erinys is teased in an image on SSO's social media. |
| February 25, 2021 | A trailer of the Erinys is released on SSO's social media accounts. |
| March 3, 2021 | The Erinys is released for a limited time of two weeks. |
Description
"Across Jorvik stand ancient runestones, standing tall and proud for centuries, carrying with them the secrets of Druids and Aideen. Sometimes, dark forces can corrupt the sacred runes, crumbling these monuments. It is from these shattered sigils that Erinys was born.
Jorvegian folklore claims that wherever and Erinys walks, they leave a trail of cracked earth behind them. if left unattended for too long Erinys might gallop off, seeking vengeance on those who destroyed the runestones they came from.
Erinys' fierce and tireless nature makes them a dedicated riding companion, always eager to push their limits and become stronger and faster.
Born in shadow, Erinys hopes one day to be welcomed back into the earth from which it sprung. Perhaps by bonding with this tragic steed, you can help it come a few steps closer to redemption.
Though Erinys have appeared throughout Jorvik, wherever runestones lie, these mythical horses seem to be drawn to the Wildwoods, where Jorvik's primal magical energies are strongest.
Like other Magic Horses in Jorvik, Erinys prefers to show its true colors in wild places and conceal its appearance in populated areas. Whether in its magical for or disguised to blend in with other horses, Erinys rides just like the Clydesdales it most resembles."
Unique Features
Color Changing
The Erinys is a magical horse with the special ability to change colors. When the player presses the "h" key or the magic horse icon on the horse's character sheet, the horse will change from its neutral colors to its natural (magic) colors and vice versa. The horse will not change colors during races or while the player is unmounted.
Feathers
The Erinys sports heavy feathering on its legs. This long hair covering the horses' canon and fetlock means that the Erinys cannot wear leg wraps or open-front boots in the game.
Colors, Pricing, and Location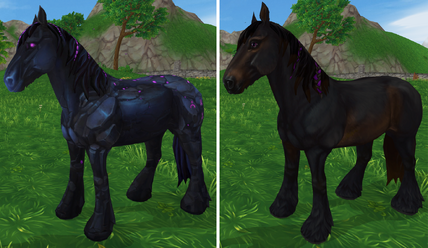 The Erinys is sold for 750 SC and is sold by Gary Goldtooth. It comes in one variation.
Note: This horse is released for limited periods of time and is not always in the game.
Natural color: Indigo Stone-like body with glowing runes.
Neutral color: Seal Brown
Trivia
Erinys was released as a pair with Petra
Erinys, like most other Magic Horses, cannot have it's hairstyle changed.