The English Thoroughbred makes additional appearances in the following games.
Star Stable
Description
"Its Arabian lineage makes the English Thoroughbred a great horse for almost any equestrian discipline. The breed has forever changed the world of racing due to its capacity to maintain high speeds over great distances." - Star Stable: The Autumn Rider
Locations and Colours
The English Thoroughbred makes an appearance in Star Stable: The Autumn Rider.
It can be found it Valedale in one color, Dappled Sooty Buckskin.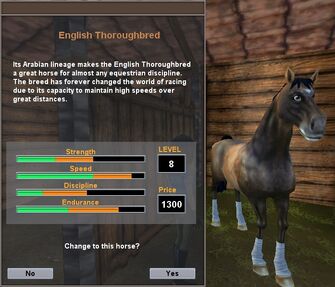 Trivia