"
This part of Epona has long been owned and run by the Winterwell family. Since New Hillcrest was built, there have been changes in how powerful such an old aristocratic family can be, which everyone thinks is for the better.
"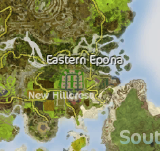 Eastern Epona is the large area near South Hoof Peninsula, encompassing New Hillscrest and part of the Mirror Marshes.
Trivia
Community content is available under
CC-BY-SA
unless otherwise noted.