The Dutch Warmblood makes additional appearances in the following games.
Star Stable
Description
"The Dutch Warmblood is a sport horse capable of high level competition. It was developed by crossing Dutch horse breeds with English, French, and German horses. It is known for its excellence and rank alone of the very nest horses available. - Star Stable: The Spring Rider
Locations and Colours
The Dutch Warmblood makes an appearance in Star Stable: The Spring Rider.
It can be found at Beauvista Stables in one color, Light Flaxen Chestnut.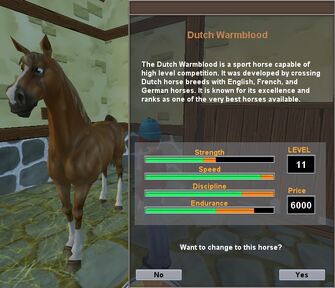 Trivia