Clyde is a horse managed by Felicity in Star Stable Online.
He is a seal brown Clydesdale with a pulled mane and tail, and a unique interrupted blaze. He is described as being opinionated with a charming but devilish personality.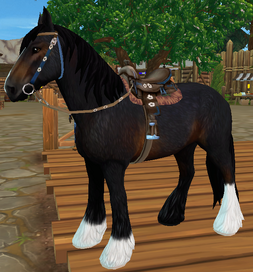 Star Stable Online
Clyde appears in the quests wherein Emma goes looking for her perfect horse companion. Clyde is one of the candidates.
Emma is immediately taken with Clyde's looks, calling him "B-E-A-U-T-I-F-U-L!" and pays little attention to Felicity's warnings of him being "a bit of a scoundrel," when taking him out for a test ride.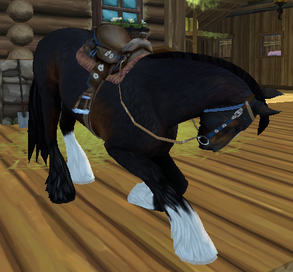 However during the ride, Emma finds Clyde to be a bit much to handle, noting that he is "very opinionated" and becomes queasy near the end of the trial. When the test ride is complete, Emma compliments Clyde, saying "he's got unmistakable roguish charm, love the blaze...", however she notes that he is just too much horse for her. Clyde is left back in Felicity's care as Emma looks for another horse that fits her needs better.
Etymology
The name Clyde is derived from the name of the River Clyde in Scotland, from Cumbric Clud, which is of uncertain origin.
Trivia
Clyde is the only Clydesdale horse with a seal brown colour in the game.
Community content is available under
CC-BY-SA
unless otherwise noted.