Butterfly is a prized eventing horse, owned by the Baroness.
He was originally portrayed as a buckskin Jorvik Warmblood, with Bend-Or, AKA "Grease" spots, brown eyes and medium length, wavy hair.
He is now portrayed as a palomino Trakehner. While he still retains his grease spots, he now sports a white butterfly-shaped mark on his forehead.
He bears a striking resemblance to Marley's packhorse, Valiant.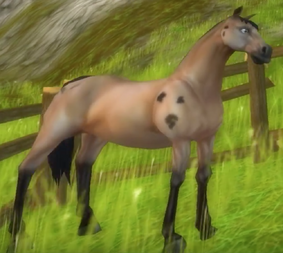 Etymology
The name Butterfly, comes form the genus of winged insects found in the macrolepidoptera clade, Rhopalocera, from the order Lepidoptera. It is derived form the Old English butorflēoge. The source of the name could be derived from the butter yellow color of the male brimstone, which is an extremely old species of butterfly, or it could denote the fact that many butterflies were on the wing in meadows during the spring and summer butter season while the grass was growing.
This is a common pet name usually used to denote delicate beauty, but was also a popular name among Hippie members during countercultural youth movement mid-1960's United States.
Star Stable Online
The player first learns about Butterfly from the Baroness herself, who explains that Butterfly suffered an injury during a competition and was sent to Marley's Farm for physical therapy on the leg. She tasks the player with going to meet up with Marley to see how the training is going.
However upon reaching Marley's Farm, Marley expresses concern that Butterfly is acting strange and frightened. It is soon discovered that while Butterfly was being transported to Marley's farm he was stolen by Mr. Anwir and his henchmen Carl, who replaced him with a similar looking horse, whom Marley names Valiant, with painted on markings.
Eventually with the help of Valiant, Marley and the player find where Butterfly has been hidden and he goes back to the Baroness' Stables.
Community content is available under
CC-BY-SA
unless otherwise noted.