Bobcat Girls is a riding club in Moorland. The leader of the club, Loretta, will give the player different tasks before making them a club member.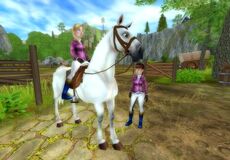 Loretta and the other club members will criticize and be cold to the player at first, but eventually they warm up to the player, after you've proved yourself.
Club Information
The club leaders are Loretta and her best friend Tan. The club seems to have a hot pink/magenta theme, as all the members wear pink tops and in the Bobcat Girls shop they sell pink clothing and tack. Other Bobcat Girls can be found around Moorland.
Races And Daily Quests
The Bobcat Girls have three race tracks:
Members
A girl who is wearing the Bobcat Girls top can be found at Leonardo's; she is probably a member of the club.
She can now be found at Josh's pole bending area.
Community content is available under
CC-BY-SA
unless otherwise noted.