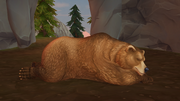 Bears are carnivores that appear in the remote forests of Jorvik, primarily in Firgrove and Wildwoods. There is a bear cave in Firgrove in which a bear sleeps in. If the player walks into the cave, the bear will chase them out, however the player can walk along the side of the cave to stay undetected (and a star can be found while doing so). The bear cave in Firgrove is located west of Starshine Ranch, and there is a small dirt trail leading to it from the entrance to Mistfall.
Other bears also appear in the The Ranger Wilderness Race in Wildwoods and in the Winter Village.
Trivia
Björn, the bear in the cave in Firgrove, shares a name with Björn the gardener. It is unknown if this is an oversight.