Bartok is the name of Loretta's horse in Star Stable Online.
Appearance
Bartok appeared as a light grey Jorvik Warmblood, wore a Bobcats saddlepad, and his white mane done up in button braids.
He was updated on September 19, 2018. All of his features (such as his button braids, light gray coat, etc..) were kept, except for his model, which is of the new Trakhener model.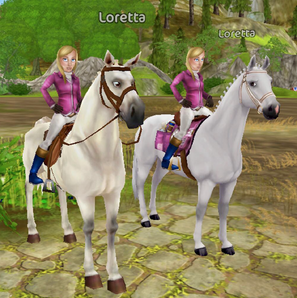 Bartok is never seen without Loretta on his back and considering Loretta's outstanding riding accomplishments, he is no doubt an extremely accomplished, and well bred, competition horse.
Etymology
The name Bartok, is and anglicized form of the Hungarian name, Bertók, which in turn is a diminutive of the name "Bertalan" and other names beginning with Bert.
"Bertalan" is the Hungarian form of the name "Bartholomew", which was a Greek version of an Aramaic name meaning "Son of Talmai".
Trivia
Community content is available under
CC-BY-SA
unless otherwise noted.