Balder is a wild foal in Star Stable Online.
He is a Light Palomino Welsh Pony, with a white stripe on his nose.
Balder, lives with his mother among the wild herds found on South Hoof Peninsula and is the first rescue the player encounters at Hugh's Rescue Ranch.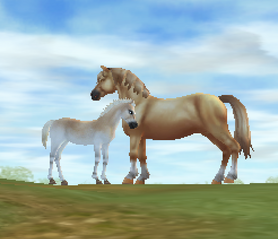 Etymology 
Balder's name is of Old Norse origin, meaning "prince". In Norse Mythology this is the name given to the son of the gods Frigg, and Odin. He had the power to be immune to everything on earth except mistletoe.
Trivia
Balder uses the foal model that represents the Light Flaxen Chestnut Haflinger in the Star Stable Horses App.

However, since his mother is a welsh pony, and the foal models are all the same, it stands to reason he is a welsh pony as well or at least part Welsh pony.
Community content is available under
CC-BY-SA
unless otherwise noted.