The Baby Yule Goat is a Yule Goat that appeared during Christmas of 2020. When the player, both Star Riders and Non-Star Riders, first logged in during this time, the Yule Goat will approach them and beckon the player to follow them. The player finds out that their home is with Mrs. Holdsworth and she explains the tradition of the Yule Goats and Winter Festivities. The Yule Goat then leads the player to the Landing Pad Helper elf in Moorland to take them to Winter Village.
Appearance
The Baby Yule Goat has a similar appearance to the baby Yule goats during the previous years' Yule Goat Hunt, made of straw, wrapped in red ribbons with glowing purple eyes. The Baby Yule Goat also wears a sheep bell and has a tail made of green leaves.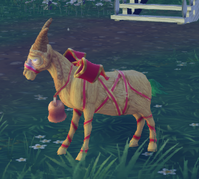 Trivia
If the player calls for pickup or takes the trailer while the Baby Yule Goat follows them, they would need to relog to be able to see it again.