Overview

Other Appearances
Ayla, is a fictional horse breed that is available in Star Stable Online.
Timeline
| Date | Development |
| --- | --- |
| March 16, 2020 | A trailer of the Ayla is released on SSO's social media accounts. A release date of March 25th, is given at this time. |
| March 25, 2020 | The Ayla is released for a limited time of two weeks. |
| June 2, 2021 | The Ayla returns for a limited time of three weeks. |
Description
"Lunar cycles on Jorvik are an enigma, but on the special occasion that a full moon beams down on the land, the illuminating glow draws out a graceful horse known as Ayla.
Solitary by nature, Ayla sticks to the untamed wilderness of Northern Jorvik and beyond, seeking the brilliant Northern Lights that sway across the sky in a multitude of blues, pinks, and purples, much like Ayla's magical coat.
Despite their shy demeanor, Ayla are fiercely protective of the people and animals they bond with, perhaps to a fault. Expect some jealousy in your stable if you decide to take home this steadfast beauty.
Jorvegian legend claims that a radiant magical horse used to circle the ring of light around the moon, watching over the people of Jorvik, until one day the being alit to Earth to save their dear friend who had fallen into the fires of Garnok's Fury. It is said that the Ayla that wander Jorvik are descendants from this mythical creature, still seeking to find their lost friend.
Like other Magic Horses in Jorvik, Ayla shows its true colors in wild places and will conceal its appearance in populated areas. Whether in its magical form or disguised to blend in with other horses, Ayla rides just like the Andalusians it shares ancestry with."
Unique Features
Color Changing
The Ayla is a magical horse with the special ability to change colors. When the player presses the "h" key or the magic horse icon on the horse's character sheet, the horse will change from its neutral colors to its natural (magic) colors and vice versa. The horse will not change colors during races or while the player is unmounted.
The Spanish Walk
As the Ayla shares its model with the Gen 3 Andalusians, it can perform their special move called the Spanish Walk. The animation can be activated by pressing the spacebar, but only when standing still, otherwise the horse will jump instead of performing the move.
Colors, Pricing, and Location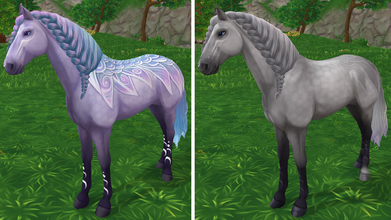 The Ayla is sold for 950 SC. It is sold by Gary Goldtooth and comes in one variation.
Note: This horse is released for limited periods of time and is not always in the game.
Natural Color: Light lilac body with pearlescent, fairy-like, wing markings and runes on the body, with a pearlescent mane and tail
Neutral Color: Dapple grey with clipped markings
Trivia
Ayla, like most other Magic Horses, cannot have it's hairstyle changed.
The name "Ayla" means "moonlight, halo" in Turkish.

It also means "sky" or "heaven" in Latin.

Ayla was was released as a pair with Umbra.