The Appaloosa makes additional appearances in the following games.
Star Stable
Description
"The Appaloosa is another breed that stems from horses brought to North America by the Spanish. This particular breed came from horses of the Nez Perce Indians that lived by the Palouse River in Washington State, hence the name. The Appaloosa is a great family horse, since it's versatile enough to be used in almost any riding discipline." - Star Stable: The Summer Rider
Locations and Colours
The Appaloosa makes an appearance in Star Stable: The Summer Rider.
It can be found at Snake Bite Farmin one color, Flaxen Red Roan Blanket.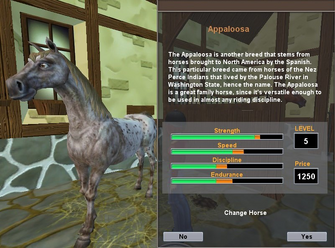 Trivia