Overview

Other Appearances
Aldrach is a horse breed that is available in Star Stable Online.
Timeline
| Date | Development |
| --- | --- |
| June 10, 2021 | A teaser image of the Aldrach is released on SSO's social media accounts. A release date of August 11th, is given at this time. |
| August 10, 2021 | A Teaser trailer for the Aldrach is dropped on SSO's social media accounts. |
| August 11, 2021 | The Aldrach is added to the game for a limited time of three weeks. |
Description
"Once upon a time, a down-on-her-luck apprentice stable hand left the safety of home and stable to seek her fortune. Through trials and tribulations, she made her way to the very heart of Jorvik, beyond the fabled Ashlands, into the crater of Garnok's Fury.
The Young hero returned with two impossibly large gems. Thinking her fortune made, she headed home to present her treasures to the queen, but before her audience, the gems split open, revealing a pair of scaly dragons. In the blink of an eye, the dragons transformed into majestic horses! Called in to present her gift to the queen, the girl had nothing to give but a fantastic tale and two seemingly ordinary horses.
Aldrach the Redis is the embodiment of nature's destructive but necessary forces, such as volcanic eruptions. To see the crimson scales of Aldrach is a warning of oncoming disaster, but you will grow stronger if you can pass through the fire. They are passionate, as difficult to control as a volcano, but the rider who perseveres will be richly rewarded with a lifelong companion and new inner strength.
Dragon horses are notoriously vain, which is why they disguise themselves as Friesians, considering the breed the most beautiful and regal of all horses. Few can see through the illusion, and they only choose to reveal their true forms to those they deem worthy."
Unique Features
Color Changing
The Aldrach is a magical horse with the special ability to change colors. When In the wild, it changes from its neutral colors to its natural (magic) colors. When the horse approaches Jorvik's different villages it regains its more realistic colors.
The Canter Pirouette
As the Aldrach shares its model with the Gen 3 Jorvik Friesians, it can perform their special move called the Canter Pirouette. The animation can be activated by pressing the spacebar, but only when standing still; otherwise, the horse will jump instead of performing the move.
Colors, Pricing, and Location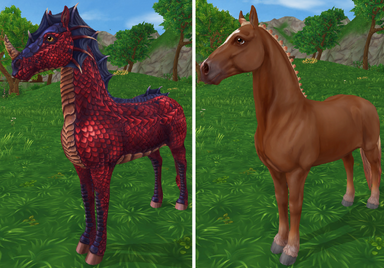 The Aldrach is sold for 950 SC. It is sold by Gary Goldtooth, and comes in one variation.
Note: This horse is released for limited periods of time and is not always in the game.
Natural Color: Red scaled dragon-like body
Neutral Color: Flaxen Chestnut
Trivia
Aldrach, like most other Magic Horses, cannot have it's hairstyle changed.
Aldrach was released as a pair with Faramawr.

"Drache" means "Dragon" in German.