The Akhal-Teke makes additional appearances in the following games.
Star Stable
Description
"The Akhal-Teke is said to be the world's oldest purebred horse. Some say that it has been around for over 3,000 years. Today the Akhal-Teke is known as an excellent sport horse. It is often known as a 'one-rider' horse, that refuses to be ridden by anyone other than its true master." - Star Stable: The Winter Rider
Locations and Colours
The Akhal-Teke Makes an appearance in Star Stable: The Winter Rider.
It can be found at Cape Point Stables in one color, Liver Chestnut.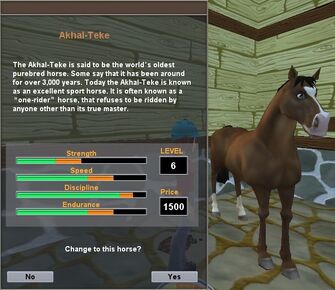 Trivia